Videos and PDFs may be viewed directly by clicking on each item. PDFs may be downloaded by right clicking and saving it to your computer for later viewing.
Documents are stored in PDF format.
All the Material here is copyrighted. Do not redistribute. It is available here, free for all to use.
______________________________
The section contains a link to the book Wild Goose Qigong – An Internal Art with supporting documents and videos used in the Wild Goose system.
Wild Goose Qigong – An Internal Art
(Click below to see the book on Amazon)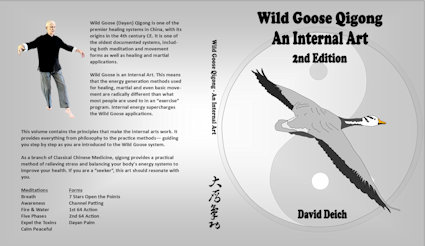 Documents (PDF Format)
Dayan Qigong by Yang Meijun [1st & 2nd 64 Manual]
Wild Goose (Dayan) Qigong Lineage
Videos – Meditations
Breath Meditation
Awareness Meditation
Water and Fire Standing Meditation
Videos – Book Insights
Introduction
Taoist Training Philosophy
Practice Principles
Videos – Forms
The 1st 64 Form performed by GM Chen Chuan Gang
The 2nd 64 Form performed by GM chen Chuan Gang
The Channel Patting Form performed by GM chen Chuan Gang
The Dayan Palm Form performed by GM chen Chuan Gang
7 Stars Open the Points Gong by Xie Chunyin